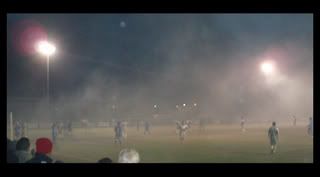 We have been having some heavy fog about Melbourne lately, it came in on Thursday morning and has been hanging about since. The picture on the right was taken on Wednesday night - before the fog. I personally think that this was the event that started the fog.
Melbourne Victory have organised friendlies against three Victorian Premier League teams. Richmond was the first match, the week after it was against Oakleigh (Wednesday night) and this Wednesday it will be South Melbourne.
I wasn't able to attend Richmond, but I went to the Oakleigh match. Although the game finished 2-3 for a Melbourne Victory win, the result doesn't particularly matter. Victory are looking very cohesive already, and with more matches we can begin to play some fluid football.
It was good to see 4000 people turn up on a very cold evening (my fingernails turned purple!), but I'm hoping to see many more next week at Bob Jane. Perhaps the closest to a Derby as we'll get for a little while yet? I'll endeavour to take more photos.